Are you looking for the best AI writers in 2022? Are you looking for the best AppSumo deals on ai content writer tools? Find the best AI content generator tools on AppSumo with Lifetime Deals!
When you search for the best AI article writing software, Google will give you a lot of results.
But we've already done the hard work for you and listed the top AI-powered article writing tools on AppSumo so you don't have to spend your time researching.
AI writers use content intelligence machine learning technology to generate content for any given topic or niche.
Writing great sales emails, blog posts, and social media posts is tough enough, and you don't want to go viral for poor grammar or awkward typos.
Give your content writing the help it needs with an AI-based copywriting tool that works with every topic you type.
10 Best Free & Paid AI Writers [Popular AI Tools in 2022]
In general, the list of the best AI writers differs from the list of the best AI writing tools on Appsumo. These are the top 10 AI writers based on their features and usage in 2022.
1. Jarvis.ai is an AI copywriting tool that enables you to transform brief information into a quite personalized and impressive piece of content. Try Jarvis For Free & Get 10K Words using our special link.
2. Copy.ai is an AI-based content generator tool developed to reduce the content creation time burden for content creators. Free Account Available. Try Copy.ai For Free
3. Rytr.me is an AI writing assistant that auto-generates catchy, original, and high-converting copies in popular tones and languages in just a few seconds. Free Account Available. Appsumo Deal Available. Try Rytr.me For Free & Get 5K credit using our link.
4. PepperType.ai is copywriting tool that helps you create an interesting and compelling copy on your own - just choose the topic, click and write. Try PepperType For Free & Get 10K Words using our special link.
5. Simplified is a free ai writer that makes your marketing, designing, writing easier with the help of AI. Free Account Available. Appsumo Deal Available. Try Simplified For Free
6. Writesonic.com - With just a few clicks, you can generate high-quality website copy and marketing text. Try Writesonic For Free
7. Copymatic.ai is an AI-powered platform to write attractive, conversion-optimized and human-quality content with AI. Try Copymatic For Free & Get 10 Credits!
8. Outranking.io is a progressive AI copywriting and content analysis platform to create high-quality SEO optimized content in a fraction of time. Try Outranking For Free
9. Closerscopy.com is a fairly-advanced tool in content generation, It is equipped with customized AI technology that helps you come up with content quickly, and easily. Try Closerscopy.com
10. Frase.io helps you create better SEO content, faster with the help of Artificial Intelligence. Try Frase For 7 Days at $1
Now let me share some of the most pocket-friendly lifetime deals on these AI-based content writing tools at Digital People.
Just wanted to let you know that the New Year Sale for 2022 of the AppSumo Platform is approaching in a few days.
It just takes 2-mins to scan all the top appsumo deals in 2022 at Digital People.
12 Best AI Content Generator Tools on AppSumo in 2022
If you're looking for an AI article generator software lifetime deal, there are hundreds of options available. I have compiled a list of the 12 best ones to help you succeed.
Rytr.me
GoCopy.io
Nichesss
ContentForge.ai
WordHero.com
Typli.ai
Blogely
Thundercontent
Inksprout.co
Simplified.co
AISEO.ai
Papertype
1) Rytr.me - Best Buy: Lifetime Deal for Just $39
Rytr is an AI content writing tool that helps you create high-quality content, in just a few seconds. They are also much cheaper than human content writers!
It is an online platform that takes advantage of Artificial Intelligence to support your content creation process.
Features of Rytr.me:
1) Simple User Interface: The software is easy to understand and navigate.
2) Ease of Use: Anyone can use this app for content generation.
3) 25+ Content Use Cases to choose from.
4) Multiple Languages & Tones: You can generate content in multiple languages and tones.
5) Multiple output content variants.
6) Collaboration feature to give access to your team.
7) Content History to access your past, present and future content. Learn more about Rytr Lifetime Deal here.
You can use this app to generate content for any topic or niche. While digital agencies use it to generate all kinds of content for their clients.
Check Rytr.me Lifetime Deal on Appsumo


2) GoCopy.io - Lifetime Deal Starting at $59
GoCopy is an AI-powered new platform that delivers high-converting marketing content instantly using proven content templates.
It is a growing writer's community of more than 200 professionals who use GoCopy to overcome writer's block, be more creative, and get their writing done faster.
GoCopy Features:
Latest Artificial intelligence-based copywriting assistant.
Simple Editor Just like Rytr.me
No limit on content generation whereas Rytr has a 50,000 limit per month.
Unlimited access to the state-of-the-art artificial intelligence library.
Excellent Customer Service
Access to official GoCopy community for marketing, copywriting, and entrepreneur
All future features are included in the AppSumo lifetime deal.
Go for a Single plan for short-form content and a Double plan if you want an unlimited long-form AI content generator.
Check GoCopy.io LTD on AppSumo


Nichesss is an AI-powered copywriter which uses artificial intelligence and machine learning to generate content for anyone based on their inputs. It is a great alternative to Rytr.me & GoCopy.io.
Benefits of Using Nichesss:
📝 It generates original blog posts, social media posts, ad copy and more.
📝 It generates blog posts and blog outlines in seconds.
📧 It can write all your e-mails. It only takes seconds.
📹 Get YouTube video content ideas for your business.
🌎 It can translate content in 100s of languages.
🔎 It can help you find profitable and hot niches.
ContentForge is an AI-powered copywriter new assistant that helps you write, manage, and edit content effortlessly.
You can write content for ads, blog posts, social media, products, and 21+ other use cases using the Content Forge tool.
ContentForge has an AI writing assistant that solves writer's block. They also take care of formatting, editing, and researching so you can focus on other important tasks.
Check ContentForge.io Lifetime Deals on AppSumo


5) WordHero.co - Lifetime Deal at $69
WordHero is an AI writing tool that will help you write high-quality blog articles, social media captions, emails, ads, sales copy and more. All you need to do is select the type of text and simply click a few buttons.
WordHero offers a suite of tools that have been helpful to many, including me. They just added a new feature that turns Word into a powerful AI editor, which I find particularly useful.
They have a brand new long-form editor that lets you generate articles much faster and with much less effort than before.
Check WordHero.co LTD on AppSumo


6) Typli.AI Lifetime Deal $59
With Typli.AI, next-generation AI tools combining AI content creation and SEO Assistant, digital marketers will have the ability to automate writing articles.
Digital marketers will be able to generate AI-generated articles with Typli.AI's automated authoring tool, which combines AI content generation and SEO Assistant.
Typli AI Features:
The UI is simple to use & generates high-quality content
It offers over 100 AI copywriting commands.
It offers an add-on for Chrome and Mozilla Firefox.
WordPress plugin to use the tool from your WP dashboard
Access to Google keyword data
Generate long-form content (500+ words in length) with a built-in SEO assistant.
You can buy lifetime access to Typli.ai and get all the future updates. Simply choose the plan for your choice from two Appsumo plans and start writing content.
With Blogely, users can efficiently manage content assets, easily optimize for search engines, and utilize a plagiarism scanner that's built-in. It's based on organised search engine results research, well-organized content management, and a plagiarism scanner.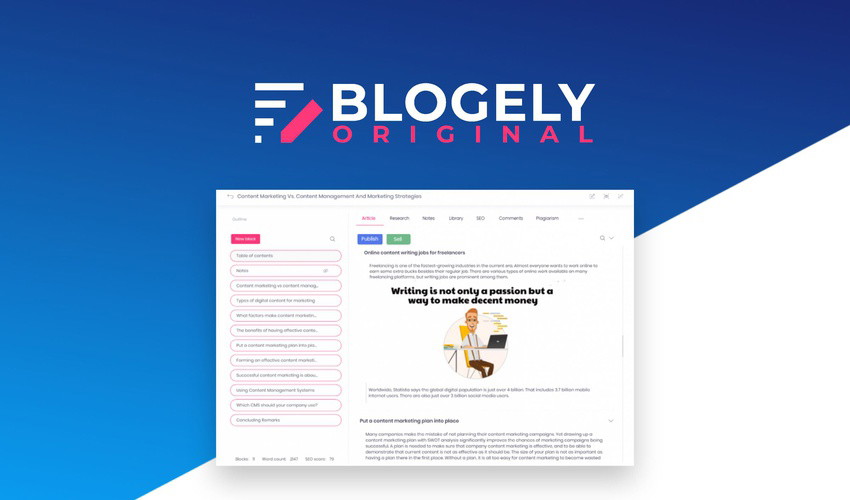 It helps content writers craft quality original content by organising SERPs research, content assets, and simplifying SEO optimization. It empowers freelancers to create great content pieces that can be used for websites or they can sell it on Blogely's marketplace.
Features of Blogely Content App:
Easy-to-use AI content writing app with a straightforward interface
Organize all your content assets in one central location linked to the article
Create a full research document in a matter of seconds
Analyses SERP results with questions, statistics, & keywords
One place for SEO Content with easy keywords management
No technical skills required
Inbuilt plagiarism checker tool Copyleaks
Sync & publish on WordPress from Blogely
Easy import & export to save time
With Thundercontent, you can write unique articles at the speed of light with artificial intelligence.
Using this app, Your articles, blog posts, or web copy can focus on any topic of your choice and be thoughtful and high-quality.
Content created with Thundercontent's AI generator is concise, engaging, and natural, and all this comes in an affordable package at Appsumo.
Features of Thunder Content:
AI copywriter assistant
Idea blog post generation
Intro blog post generation
Outlines blog post generation
Clean text editor
Export in TXT, PDF, MD, & HTML file formats
Article with HTML semantics
You can get a Thundercontent copywriting tool's lifetime deal from Appsumo for just $59.
Get Thundercontent Lifetime Deal


9) Inksprout - Best for Social Media Content: LTD at $47
If you are looking for an ai content writer for social media precisely, then I recommend you to go with Inksprout.

Inksprout helps you generate a clear, trustworthy caption when sharing your website links on social media. It can create catchy captions for industry news or your blog post that can be used on social media channels.
It supports LinkedIn and Facebook; as well as social media schedulers like Hootsuite.
Check Inksprout LTD on AppSumo


10) Simplified.co - Lifetime Deal Starting at $79
Simplified is a one-stop ai content resource, letting you create images, videos, and texts all in one place.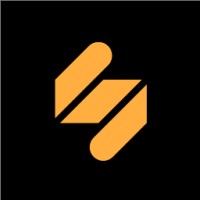 You can browse from thousands of stunning templates to use for your social media posts, Instagram stories, Reels, TikToks, ads, and banners. There really is something there for everyone.
It's as simple as dragging, dropping, and done.
Check Simplified Deals on AppSumo


11) AISEO.ai - Good for SEO Content: LTD at $39
AISEO offers you writing superpowers with artificial intelligence. This AI copywriting tool can help you convert your thoughts to blogs and can write for you at the click of a button.
The writing assistant by AISEO lets you generate an SEO-optimized blog post with a couple of clicks. The long-form assistant from this tool creates a complete paragraph with just one click, resulting in fast output.
If you are looking for an AI content generator tool for SEO purposes then you can check out AISEO now.
Check AISEO.io on AppSumo Lifetime Deals


12) Peppertype.ai - The Deal is Sold Out
Pepeertype is another content generator that helps you write better content in seconds with the power of artificial intelligence. Currently, the deal is sold out but it's worth mentioning in the list.
These are the most affordable top seven AI content generator tools that offer lifetime deals on the AppSumo platform. You can pick one based on your content needs.
You can also check Jarvis.ai Lifetime deal and ClosersCopy lifetime deal as they are also part of the best ai copywriting tools at Digital People.
Jarivs.ai is also known as Conversion.ai, It is highly recommended as an AI content writing software on the Internet, you can read the complete Jarvis.ai review to learn more.
Final Thoughts about AI Content Generator Tools
The AppSumo offers on ai copywriting tools are very impressive. I'm sure you could find something to help you save money.
All these writing assistant tools are capable of generating plagiarism-free content with the help of artificial intelligence.
I was surprised at the number of excellent content writing tools available on AppSumo. Some of the best deals online include huge savings on popular and useful tools.
If you're like me, you absolutely love tools and will benefit from the savings and selection available on AppSumo.
What is your favourite AppSumo AI content generator deal? Please feel free to share your experience in the comments section below!