If you're a blogger, you know that headlines(titles) are everything.
If you're lucky, a good headline will generate a lot of traffic. If you're not so lucky, a bad one will generate nothing.
I've discovered that the best way to come up with great headlines is to use free blog title generator tools.
What if I told you that there are tools out there that can help you write better headlines for your blogs?
They don't require a lot of time and effort to use, and they can boost your blog's traffic and conversions.
In this blog post, I'm going to show you some of the best free blog title generator tools on the market today. But first, let's talk about why you need to write better headlines in the first place.
Blog titles are the first thing your viewer sees when they are trying to decide whether or not to engage with your blog post, email or Facebook ad.
With minimal effort on your part, you can leverage these free blog title generators to create headlines that will rank in search engines and be memorable.
10 Blog Title Generators in 2022 [Free & Paid]
Here is the list of the top 10 best blog title generator tools that you use right away to write catchy headlines for your blog posts and emails.
Let's start with the free ones. You can also click and jump to the AI-powered title generators section.
5 Best Free Blog Title Generators of 2022
I will start the list with some of the best free blog post title headline generators that help you write engaging titles for your blog post and social media.


1. Fatjoe Free Blog Post Title Headline Generator
Fatjoe Headline Generator is a free tool that generates click-worthy blog post titles and headlines within seconds. This is a great tool for bloggers who want to generate new title ideas for articles and social media.
Simply enter your topic keyword and press generate blog title ideas button. The generator will provide you with a list of the 10 best blog post titles in no time. You can then pick one of the ideas or add your own title and headings.
Here's an example: Topic - Tips to Improve Writing
10 Ideas Generated by Fatjoe in 2 Seconds
8 Effective Tips To Improve Writing Elevator Pitches
The Ultimate Glossary of Terms About Tips To Improve Writing
20 Gifts You Can Give Your Boss if They Love Tips To Improve Writing
A Beginner's Guide to Tips To Improve Writing
11 "Faux Pas" That Are Actually Okay to Make With Your Tips To Improve Writing
15 Up-and-Coming Trends About Tips To Improve Writing
What Will Tips To Improve Writing Be Like in 100 Years?
15 Best Pinterest Boards of All Time About Tips To Improve Writing
The Anatomy of a Great Tips To Improve Writing
24 Hours to Improving Tips To Improve Writing
Visit https://fatjoe.com/blog-title-generator/
2. SEOPressor Free Title Generator
You can use SEOPressor's free blog title generator tool to generate titles for blogs, articles, web pages, etc., using any keywords you want. It automatically creates hundreds of titles for you to select from.
You'll get a lot of great title options from this free tool. Use these to help inspire topics for future blog posts! Make edits as per your requirement.
Example:
Topic: SEO Trends
Generated Headlines by SEO Pressor:
10 Great Lessons You Can Learn From Seo Trends.
Seven Top Risks Of Seo Trends.
This Story Behind Seo Trends Will Haunt You Forever!
What's So Trendy About Seo Trends That Everyone Went Crazy Over It?
Visit https://seopressor.com/blog-title-generator/
3. SumoMe Blog Title Generator Tool
SumoMe's Free Blog Title Generator gives you more control over the headlines you want to write. Pick what type of content you want to generate a headline for, and fill in the fields accordingly.
You can find 6 types:
Numbered list titles
How-to titles
Explanatory/why
Strong/Controversial
Fun/playful
DIY Headline Formulas
Here's an example for your reference:
Title Brief:
Topic: How to Write
Desired Outcome (to): Write Amazing Blog Title
Undesirable Outcome: Feeling Broke
Points in Content: 10
Outcome:
The List Headline: 10 Ways To Write Amazing Blog Title
The Sidenote Headline: 10 Ways To Write Amazing Blog Title (Number 2 Is Our Favourite)
The Proven Methods Headline: 10 Proven Methods For How To Write
The Mistakes Headline: 10 Mistakes Most People Make When How To Write
The Secrets Headline: 10 Secrets To How To Write
The Lessons Learned Headline: 10 Lessons I Learned From How To Write
The Silver Platter Headline: 10 Easy Ways To Write Amazing Blog Title
The Hacks Headline: 10 Hacks To Write Amazing Blog Title
The Steps to Result Headline: 10 Steps To Write Amazing Blog Title
The Reasons Headline: 10 Reasons Why You're Feeling Broke
The Little Known Methods Headline: 10 Little Known Ways To Write Amazing Blog Title
4. Tweak Your Biz Free Tool
Tweak Your Biz's title generator will provide you with a lot of ideas for your topic and categorize them so you can choose one that suits your needs and perhaps find some inspiration for future posts.
This free app is a great tool for bloggers who are struggling to come up with new content ideas. The app gives you a variety of prompts that are categorized by topics. This way, you can find the one that best suits your needs and get started on your next post.
Example:
Topic: Tips to sleep quickly
List of Titles:
Apply These 9 Secret Techniques To Improve Tips To Sleep Quickly
Believing These 9 Myths About Tips To Sleep Quickly Keeps You From Growing
Don't Waste Time! 9 Facts Until You Reach Your Tips To Sleep Quickly
How 9 Things Will Change The Way You Approach Tips To Sleep Quickly
Tips To Sleep Quickly Awards: 9 Reasons Why They Don't Work & What You Can Do About It
Everyone Loves Tips To Sleep Quickly
Fall In Love With Tips To Sleep Quickly
Tips To Sleep Quickly And Love - How They Are The Same
Tips To Sleep Quickly And Love Have 9 Things In Common
Kids Love Tips To Sleep Quickly
Visit https://tweakyourbiz.com/title-generator
5. Hubspot Blog Ideas Generator Free Tool
If you're feeling stumped for new blog post ideas, then you need to check out HubSpot's free Blog Ideas Generator tool.
It gives you a month's worth of blog post ideas in a click. All you have to do is enter your topic name, and the tool will spit out dozens of article ideas that are sure to inspire you.
This tool is great for bloggers who are always on the lookout for new content to publish on their blogs. It's also great for bloggers who want to make sure they're covering all of their bases with their blog content.
Visit https://www.hubspot.com/blog-topic-generator
5 Best AI Blog Title Generator Tools With A Free Trial
AI writers have a specific template designed exactly for this need, they have the perfect blog title and sub-headling templates.
Those article titles have to be perfect. The good news for you is that ai copywriting tools have your back. Learn more about ai copywriting here.
6. Frase Free Blog Title Generator
Frase is an AI-powered free blog title generator. It generates title ideas for your articles and blog posts, so you can get your thoughts organized and your creativity flowing.
Frase also helps you brainstorm ideas for your SEO content, book writing, essay, or product descriptions. You can create any type of content using Frase.io.
You can type in your keywords and Frase will provide you with a list of possible titles, or you can use one of the built-in templates.
Visit https://www.frase.io/tools/blog-title-generator/
7. Jasper AI Headline Generator: 5-Day Free Trial Available
Jasper Formerly Jarvis is an AI copywriting tool that can write a perfect blog title, headline and even a complete blog post for you with the help of artificial intelligence.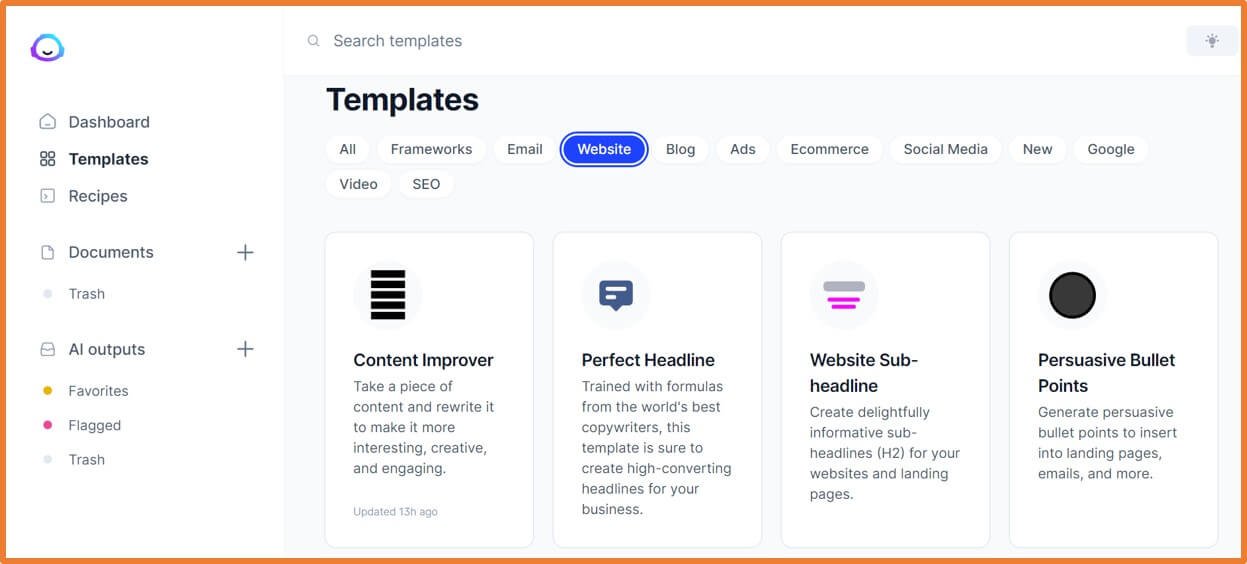 Jasper.ai
takes into account keywords, content and the customer's perspective to provide the best possible blog titles, headlines and intros.
The perfect headline template is trained with the best title formulas from the world's best copywriters.
This Jasper AI template is perfect to create high-converting headlines and click-worthy blog titles for your business.
The AI analyzes the customer's requirements and content to provide a perfect blog title in seconds. This is the perfect tool for marketers who want to save time and effort by writing a perfect product description.
You can try Jasper for free using our special trial link and get a 10,000 words bonus from the Digital People team.
8. Rytr SEO Title Writer: Free Plan Available
Rytr.me is an AI copywriting tool that allows you to generate marketing content for a website and social media. With Rytr, you can type in a keyword and instantly get a title for your article, a tagline for your product, or a headline for your website.
If you're not sure what to write about, Rytr.me can generate a title, tagline, or headline based on the content of your website.
Visit https://rytr.me/use-cases/seo-title
9. Copy.ai Blog Titles Template: Free Plan Available
CopyAI is a content platform that creates high-converting marketing copy in seconds. It offers a Blog title template that can generate amazing blog post titles and headlines.
It has the maximum number of templates for AI content creation which makes this tool, one of the best choices for AI writing software.
You can sign up for free and use their title template to write highly engaging blog titles for your next post.
10. Writesonic Website Copy Template
Writesonic's AI writing assistant is the perfect copywriting tool for any blogger or content creator.
With just a few clicks, you can generate high-quality, human-level blog titles, content headlines, blog posts, product descriptions, and more.
The AI has been trained on over 50 million blog posts, so it knows how to write the perfect blog title for your audience. The AI can write anything from a blog post title to a complete article.
AI copywriting tools can save time and money.
If you are looking for a way to create a fantastic blog post title in a short amount of time, I suggest you use these best ai copywriting tools.
You can also check other AI generators listed on our website:
Final Thoughts: Best Title Generator Tools
Headlines can help or hurt your success.
The power of a title can never be underestimated. A well-written blog post headline will drive more clicks and traffic to your article, improve your search engine ranking, and increase social media sharing.
You can also check the SEO meta tags generator to create search-engine-friendly tags in seconds.
So are you going to use the free title generators or new-age AI title generator tools? Do let us know in the comment section below.